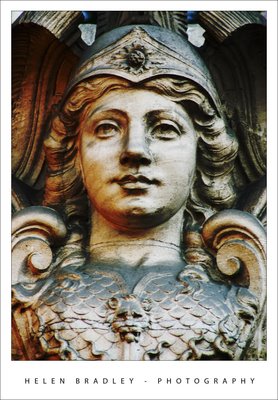 I just adored Paris. I recognised my love of the city as I flicked through the photos I had taken there – at least some of them – there are thousands.
This is one of them. The sculpture itself isn't notable, it's just a small piece from above a doorway in some Parisienne backstreet. Yet it's part of what is magic about Paris – there is so much there – more than you could take in in a lifetime.
This picture underwent a simple Levels adjustment to bring up some of the contrast and then a huge Curves attack to bring some colour into it. I totally abused the Curves dialog and the image gave up its magic. I actually blame Dan Margulis for this. Yesterday I watched one of his Man from Mars videos and I just couldn't resit applying the technique to this image and it gave wonderful results. Thanks Dan!
You can find Dan's video at Peachpit (along with some of my own Photoshop articles and videos). It's a huge download – around 90Mb but, believe me, it's worth every bit of it. Don't blame me if you fall in love with the Curves adjustment as a result of watching it. Then, when you're done, treat yourself to one of his LAB colour videos – it's almost better than chocolate! And, add to your Christmas wish list his wonderful book Photoshop LAB Color: The Canyon Conundrum and Other Adventures in the Most Powerful Colorspace.