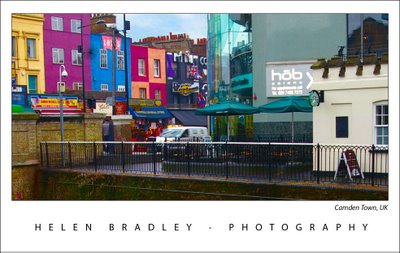 This is one of my UK images – it is of the lock area at Camden Town. Right in the middle of London there are waterways and locks, this is one of them. I took a trip in a long boat from here up the waterways and it was just wonderful. This photo, however is taken before the boat trip and it was just after a rain shower.
Often rainy days don't look great for photography but they can rock like this photo shows. The fact that everything is wet helps boost the color and, with a flash of blue sky behind the buildings, it makes for a great shot of color.
Camden markets are a great place to visit, lots of cute shops selling lots of wonderful stuff. Worth putting on your "must visit" list – but while you're there, don't forget to add a trip on Jason's long boats to the list. Those folk run even at off times of the year, the boats are old and cool and the trip, well, has to be experienced to be believed.