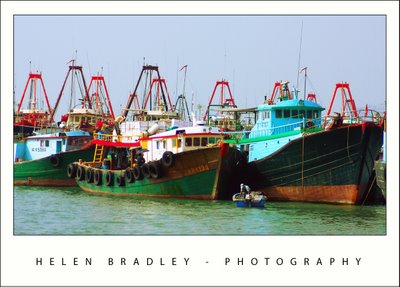 When I was in Hong Kong I went first to order chops at Man Wa Lane (Chop Alley) which is in the Sheung Wan area of Hong Kong. Chops are stamps with your name engraved on them in Chinese characters that you use to sign things. Because they are your name and your birth year symbol, they ideally are hand carved for you. I have wanted one for years and there's no better place to get it than Chop Alley.
With a few hours to spare until I had to pick up the chops, I headed by ferry to the wonderful Cheung Chau island. There are no cars here – everyone bikes or walks and it's just the most wonderful place. One side of the island is a fishing port and the other side is beach.
This photo is from the fishing port side. The atmosphere was horribly grey and polluted so the image was totally lacking in color as well as having a pretty ghastly color cast. First step is to remove the color cast. I use the "color by the numbers" approach of sampling white, neutral and black areas of the image and then adjusting curves until they are within the ball park of correct. Then, I took the image to LAB to boost the color using curves on the A and B channels. You can't do so easily unless you remove the color cast first. The result is wonderful and one of a series of boat images I'm working on.