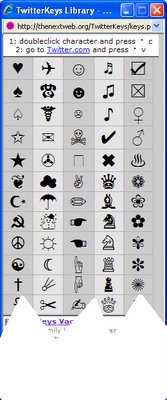 I love Twitter – I love staying in touch with everyone I am following and I love to see what they're doing. I'm also getting lots of cool information from Twitter folk – cool recommendations and contacts. In fact I'm about to start guest posting on Digital Photography School blog courtesy of a contact made with Darren Rouse through Twitter – how cool is that?
Today, CraftyChica had a note saying thank you to someone for some cute Twitterkeys she was using. Twitterkeys? What are they I asked myself?
The answer can be found if you cruise over here to http://thenextweb.org/2008/09/16/twitterkeys-enhance-your-twitter-conversations/ and grab yourself a link to them. It's a small window you open (and leave open) which gives you some cool icons to use in your Twitter tweets. And which work in blog posts too!
I ♥ Twitterkeys.
If you're looking for me at Twitter, you'll find me by searching for HelenBradley – call by and say hi!