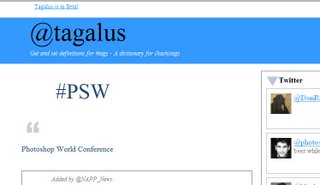 While hash tags have been around on Twitter for ages (at least ages in Twitter time!), they're a little bit difficult to manage. Hash tags are like this #psw and they're used as a way to tag a post with its contents. This one, #psw is for Photoshop World – using this in our Tweets lets us share messages during the conference. Problem is to find the hashtag tweets. You can do it in Twitter search but it's cumbersome to say the least.
Enter Tagal.us which gives you an interface for setting up hash tags and monitoring the tag content. The idea is that someone registers a tag at Tagal.us for an upcoming event. So there's already one #PSW set up for Photoshop World. Once the hash tag has been created anyone can go to the Tagal.us site using the tag as part of the URL, for example http://tagal.us/tag/psw and view the tweets that mention this tag.
Even if you're not following someone you'll still see them in the list and see their tweets. This is a great way to monitor activity at a tradeshow or other event where there is lots of activity in a short period of time. You can find everything relating to the hash tag you're interested in at one easy to find (and bookmark) location.