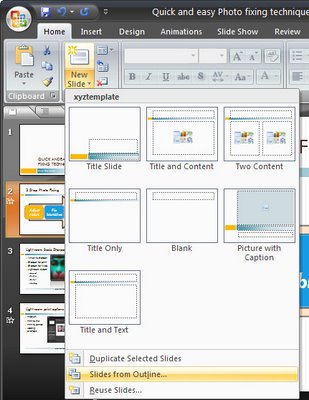 In Word 2003 you could create an outline in Word and then send it to PowerPoint where it would be converted to a PowerPoint slide show. Level 1 became the slide title and level 2 the first level bullet points and so on.
I hear a lot of grumbling that this feature has been removed from Office 2007 – not so! It just isn't quite where you expect it to be. In fact, you have a few options in PowerPoint 2007 and Word 2007.
Option 1
You can add the Send to PowerPoint button to the Word 2007 Quick Access toolbar by clicking the Office button and choose Word Options > Customize and from the Commands not in Ribbon collection choose the Send to Microsoft Office PowerPoint option and click Add to add it and then Ok. Now you can click it to send the outline file to PowerPoint.
Option 2
You can also approach the task from PowerPoint 2007 which is really the better option. One alternative is to open the Word outline file in PowerPoint and the slides will be automatically created for you. To do this click the Office button and choose Open and from the Files of type list choose All Files so you can see and open your Word file.
Option 3
This is my fave!
Open PowerPoint 2007 with a new slide show and make sure your Word 2007 outline file is closed.
Choose the Home tab on the Ribbon and click the little arrow on the New Slide button. This opens a menu which includes the option Slides from Outline – select this and open your Word 2007 outline file. The slides are automatically created for you.
So, the option to Send to PowerPoint is not there in Word 2007 but you have so many more ways to complete the task now.