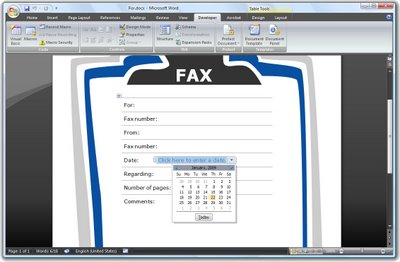 Word 2007 has some totally cool new tools for entering data in your documents. Trouble is they are hidden so most folks don't know they are there.
To start, display the Developer tab by clicking the Office button > Word Options > Popular > Show Developer tab in the Ribbon.
Now click the Developer tab and, in the Controls area you'll find entries for a range of tools including the Date Picker. To insert the date picker into your document click Design Mode and then click the Date Picker button. Click Design Mode again to exit that mode.
Now your user will see a Click here to enter a date option and, when they click the content control, a dropdown date picker will appear allowing them to select a date to insert into the document.
To ensure the date is formatted in a particular way return to the Developer tab, click Design Mode and click the Date Picker in the document. Click the Properties button on the Ribbon and from the Properties dialog select a date format to use. Make sure to deselect Design Mode before you return to your document.