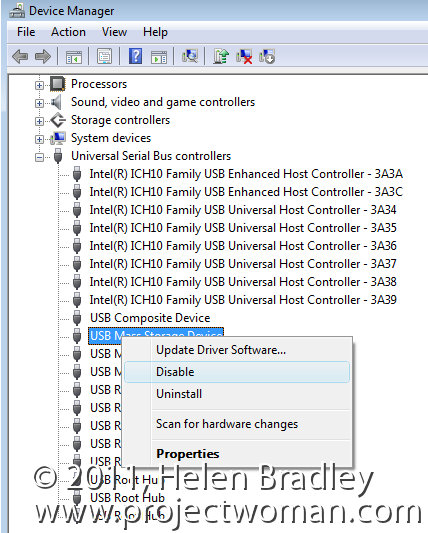 Lately I have been having all sorts of problems with my camera card in multiple computers in that the computers couldn't (or wouldn't) recognize a card when I put it in the card slot.
It got to the stage where it was fairly obvious that the problems were less an issue with the camera cards themselves and more a problem with Windows.
So, if your SD, XD or compact flash card isn't being recognized by your computer, don't blame the cards or yourself and, instead blame Windows! And then step through this process to fix the problem:
Step 1 Click the Start button and choose click Settings > Control Panel and open the Device Manager. On Windows Vista you'll need to have admin status to do this.
Step 2 Locate the Universal Serial Bus Controllers option and open it.
You'll see some USB mass storage devices listed and these control your USB Mass Storage Devices. You need to disable them so right click each USB Mass Storage Device and choose Disable. Repeat this for all the devices listed – only disable the USB Mass Storage Devices – not anything else and don't Uninstall them – just disable them.
Step 3 When you do this, you'll be warned that you need to reboot your computer so do this and Windows will automatically find your mass storage devices when it boots.
In future, it's best not to use the option to Safely Remove a Storage Device and instead open up My Computer, locate the drive, right click it and choose Eject. This safely ejects the card so that you can remove it and ensures that the storage device isn't clobbered so it doesn't work any longer.