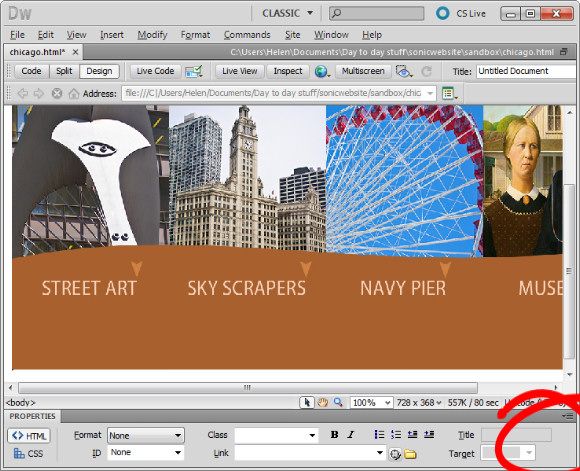 If you're using Dreamweaver on a large monitor, you may encounter a difficulty with the Properties panel (Inspector) not showing all the icons you expect to see.
For example, in the image below the Quick Tag Editor, Help button and the Expand button are all missing from the Properties panel.

Only when the Dreamweaver window is expanded to a much larger size do these buttons appear.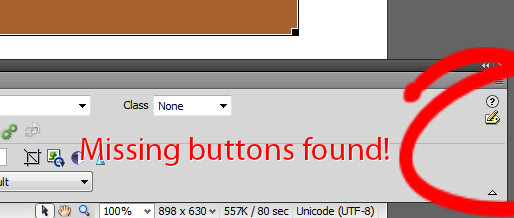 So, unless you know what is happening you will find that key tools for working in Dreamweaver are missing. If you are creating an image map, for example, not being able to see to click the Expand button means all your Map tools are hidden.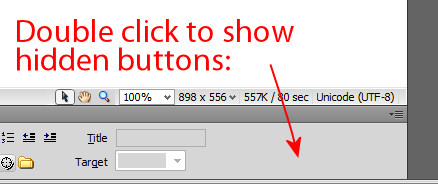 So, if you find the Expand button is missing on your Dreamweaver Properties panel you can do one of three things. Either make the Dreamweaver window very large so that you can see the Expand/Collapse icon or drag the Properties panel free of the Dreamweaver screen so it is no longer docked. As soon as it's undocked the buttons appear again. Or… and this is a cool trick, double click anywhere in an empty space in the Properties panel and the hidden buttons appear.
Hiding buttons is REALLY ANNOYING behavior particularly when you know there's an icon or feature that's supposed to be on the Properties panel and it's simply not appearing when it should.