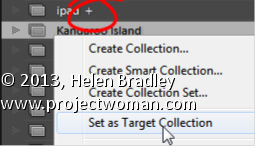 Learn how to create and use the Lightroom Target Collection feature
Lighroom's target collection feature makes it easy for you to add images to a collection. If you make a collection the target collection you can add an image to that collection by simply pressing the letter B on the keyboard. But, be warned, once it is added if you press B again you will remove the image from the target collection.
To make a Collection the Target Collection: right click it and choose Set as Target Collection.
Any Collection (except a Smart Collection) can be designated as the Target Collection but there can only be one Target Collection at the one time.
If you deselect the current Target Collection: by right clicking its name and disabling Set as Target Collection, then the Quick Collection becomes the Target Collection, by default.