Learn how to find only photos or only illustrations when searching Office 2013 online images
In Office 2013 the old Clip Art feature was removed and now you can insert an image by searching for it online at a number of places. One of these is the Microsoft clip art collection which is now stored totally online and not partly on  your computer.
So far, so good.
The problem is that the old task pane feature which let you determine the types of images you want to search for is now gone. So, on the face of it, when you search for something like coffee you get illustrations and photos. In many cases much more than you want or need.
Often, I know ahead of time I want a photo or an illustration so I want my search to return only one type of image. There's no information at all as to how to do this but you can! Instead of searching for coffee, type coffee photo to find photos relating to coffee or coffee wmf  to find  just  illustrations as these are generally wmf format images.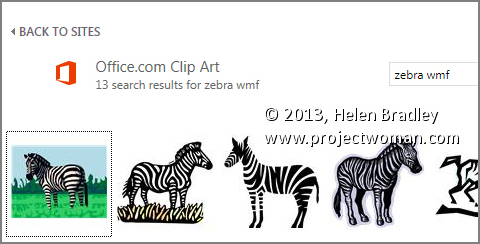 It isn't a perfect solution and you will miss out on some images as well as get the occasional illustration with your photos  or vice versa.
However, if you're not too fussy about missing out on some imagery then using this search format will weed out a lot of the stuff you don't want and serve up mostly the type of content that you do want.
This tip works in any of the Office 2013 applications – PowerPoint 2013, Excel 2013, Publisher 2013. Word 2013 and more.