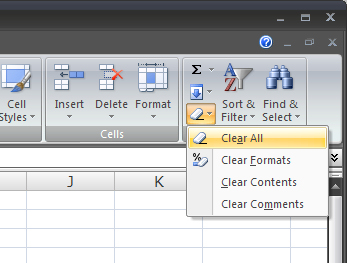 In Excel 2003 and earlier you might recall that you could click a cell and choose Edit > Clear and choose to clear its Contents, Comments, Formatting or choose All to remove everything.
In Excel 2007/2010 there is a Clear Contents option on the right click menu but, in the absence of the Edit menu you'll need to look elsewhere for the other options. On the Home tab of the Ribbon look for the Clear icon – it has an eraser on it and it has a dropdown list from which you can select the desired option.
It's pretty obvious if you're using Excel at full screen size but shrunk down it isn't clear (pun intended) that it is there or what it does. I like to add the Clear All option to the Quick Access Toolbar so it's easy to find and use. You will find it in the All Commands list and it is called Clear All if you're looking for it.