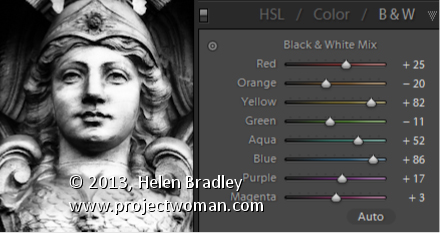 Learn how to use the color sliders to get a great Black and White image
You can convert any image into black and white by pressing the letter V or select B&W. However, you can also craft your own black and white image to get a better result than you get with the default settings if you drag on the color sliders in the Black & White Mix panel.
Each slider controls one of the underlying colors in the image. Drag to the right to lighten a color in the black and white or to the left to darken it.
Using the sliders, you can get a crafted black and white image that looks the way you want it to look.
Sliders for which there is not corresponding color in the underlying image will have no effect or little effect when you drag on them.