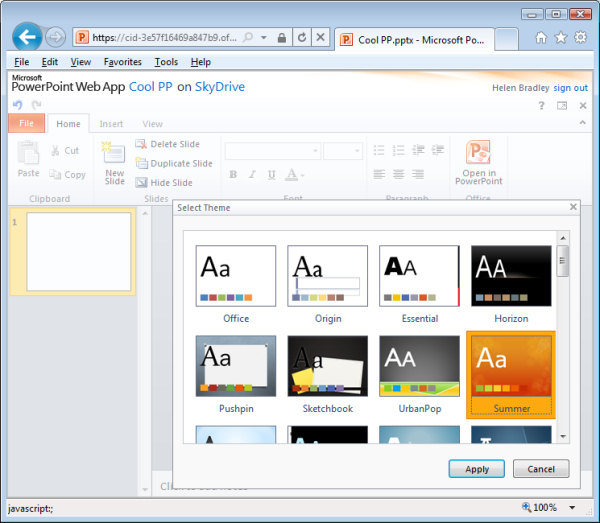 If you don't already own Microsoft PowerPoint 2010, did you know you can download a 30 day trial version for free from Microsoft?
PowerPoint comes bundled with Office 2010 and the entire downloadable trial version of Office is available from the Microsoft web site. If you like what you see, you can purchase the full version later on.
If you like PowerPoint but can't afford to shell out for the suite, why not settle for a cut down version – free – available online? You can find PowerPoint at www.skydrive.com sign in using a Windows Live ID – if you don't have one (but you probably will), you can sign up for one here. Then click the Office link at the top of the page and you can choose to create a new PowerPoint presentation online.
The PowerPoint tools are a cut down version of the full PowerPoint program but they are all you need to get a good start on a presentation – you even have access to a range of great looking themes to kick start your presentation.
Better still you can share your PowerPoint presentation with others so they can view it and even edit it online and you can download the finished file to your computer. Of course, your files are stored online too so you can access them any time you like and Microsoft gives you a hefty 25GB of online storage – more than enough to create all the presentations you're ever likely to need.