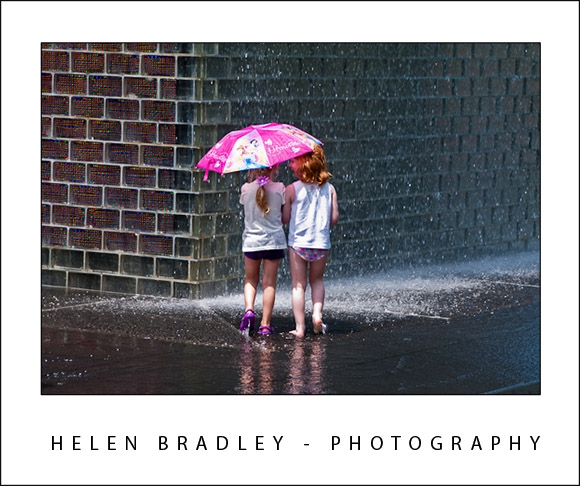 Something I've been thinking about lately is patience. The secret to this image isn't the place although it was pretty cool or the weather – a hundred feet above the buildings are surrounded with grey fog. It isn't my camera – it's good but not great or my skills, anyone on Aperture priority sitting where I was would have got the same shot. No! the secret of this one is patience.
I spent about an hour shooting kids playing in 1 inch of water at this fountain. Waiting. Watching. Hoping for something to happen. I found a good location, got comfortable, and waited. I got a lot of good shots but when this kid opened the umbrella I knew I was onto something. I pressed the shutter and kept going – I didn't stop when I thought I had the shot I just kept shooting. When I got home, the shots I thought were great were good.  This was the winner,this was the shot that keeps me going out every day… looking for magic.
Next time you're out shooting – be patient. Find a good spot and wait until magic happens for you.