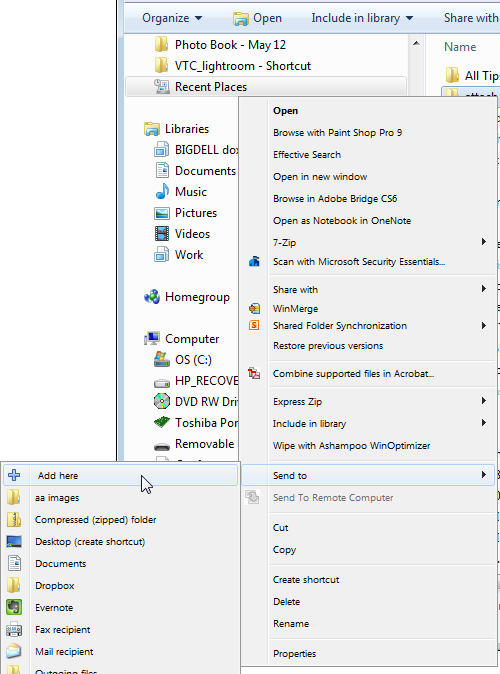 If you're like me, you use the Send To feature of Windows Explorer quite frequently. Simply right click on a file in Windows Explorer and you have a Send To option. Click this and you're able to send files to a list of sources.
While some of these options are built-in such as Compressed (Zip Folder), Desktop, and Mail Recipient, there are times when you'd like to add your own preferred location to this list.
For me, I like to assemble my files for emailing into a folder called Outgoing Files. I need that in my Send To list so that it's accessible any time I need to send a file to it rather than having to copy and paste the file from one folder to another.
The problem with Send To is that it's easy to use but difficult to add items to the Send To list itself.
Of course, you could go and find the folder and dump things in it but wouldn't it be a whole lot easier if adding files to the Send To list were as easy as sending files to somewhere using it? I think it would be!
Enter a small free and opensource application called SendToSendTo. You can find it here: sendtosendto download
Download and install the application then restart your computer.
When you do this, locate a folder or file, right click and choose Send To. You'll find that now you have an entry at the very top of the list called Add Here. Right click it and choose Send To > Add Here and you can then add that folder to the send to list by simply clicking Create.
What SendToSendTo does is to automatically add the folder that you point to into the Send To list.
One of the things that you'll love about SendToSendTo is that it's simple to install and use and it makes something that should have been easy to use all along work the way it should not as Microsoft designed it – enough said!