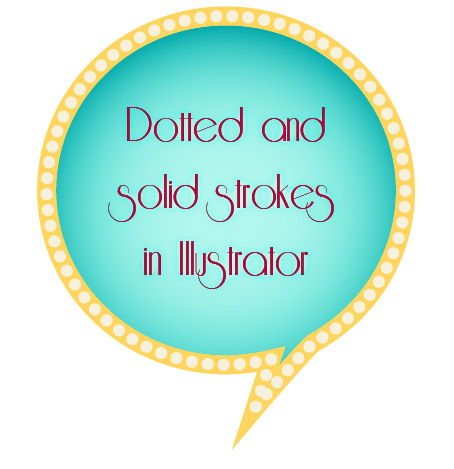 Learn to add multiple strokes to a shape in Illustrator
One way I force myself to extend my knowledge of Illustrator is to take an existing illustration and to try to reproduce it. I don't use these for anything but for learning and improving my skills. It's a great tool because, when you try to copy someone else's illustration you have to work out how to do things you may not typically do. You can't just fluff yourself off and do the same old thing – if you don't know how to achieve an effect you have to think about the problem and work it out using your existing skills or go research solutions.
Today I've been working on shapes that have neat edges and, in particular shapes with solid edges and dots – all in the one shape!
Start by drawing your shape – mine was a speech bubble but you can do it with anything. Then add a fill color and a stroke – this stroke is the thick band around the shape so make it the right size for the edge effect.
Now open the Appearance panel and add a second stroke by choosing the Add New Stroke icon. Make sure this is the top stroke – if not you can drag it up as if it were a layer. In the Appearance panel select a different color for this stroke and size it smaller than the previous one. You can now make it dots by setting up the panel so it looks like this – just note that your gap value should be the same or just larger than the stroke to make dots and that the cap shape is rounded – to get dots!