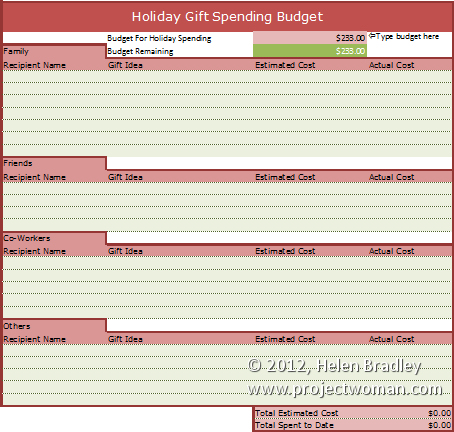 Don't blow the budget this holiday season!
Our holiday gift buying budget worksheet will help you avoid a Yule tide spending blow out.
In the interests of helping you better control your spending this Holiday Season we have a free spreadsheet download in the form of a Holiday Gift Spending Budget.
Grab this version for Excel 2007/2010/2013 – gotta love the formatting available in those versions.
If you're stuck in the land of Excel 2003 and earlier (or want to use it in Zoho, Google Docs, OpenOffice.org or anything else that can read Excel files), then grab this plainer but still fully functional version.
The worksheets are protected against wiping out key formulas and entering data in the wrong cells but there's no password there so you can easily unprotect if you desire.
To use this worksheet, download the one for your Excel version, open it in Excel (or another compatible program), and then, in cell D2 type the amount you can afford  to spend.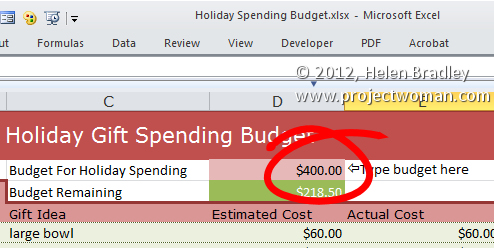 Then add entries for family, friends, co-workers and others – determine what you will get them and  how much you are budgeting to spend. At this stage you can see if you are on track or already over budget.
As you buy presents, fill in the actual amount spent and in cell D3 you will see what you still have to spend of your budget amount or if have spent all you have allowed for.