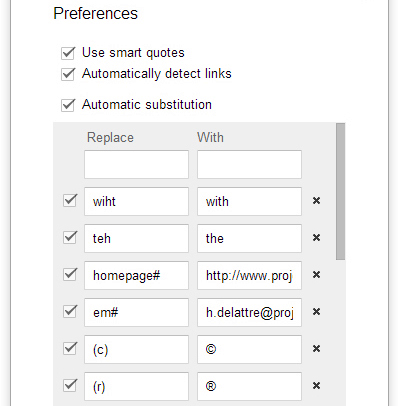 Do you find that you often make the same typos over and over again? You can increase your typing speed and accuracy with Google Docs and Word's automatic substitution tool.
To start, if you are using Google Docs, go to Tools > Preferences and ensure that the box next to "Automatic Substitution" is checked. If you are using Microsoft Word, go to File >  Options > Proofing > AutoCorrect Options > AutoCorrect tab and check "Replace text as you type". The rest of the process is the same for both word processors.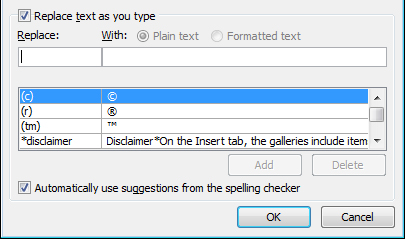 This is the automatic substitution dialogue in Word
Now you simply insert any potential typos into the "Replace" table and place the corresponding corrections in the "With" table. For example, if you tend to type "wiht" instead of "with", you can add "wiht" and "with" to a row on your substitution table. Every time you type  "wiht" it will be automatically corrected to "with".
You can also use this tool to quickly type long strings of text. If you find yourself writing out your email address repeatedly, you can create an automatic substitution for it. Create a short phrase such as "em#" or "email#" for the Replace field, and put your email address in the With field. It is important that your phrase include a special character, such as the number sign at the end, so that the substitution will only occur when you intend it to. If your phrase were simply "email" you would never be able to write the word itself without the substitution taking place!
Your list is also preloaded with some useful substitutions that are worth reviewing, such replacing "(c)" with "©".