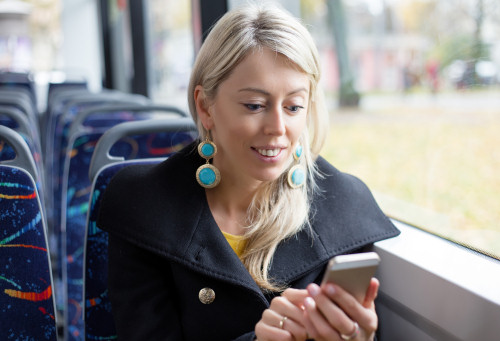 Image credit © Kaspars Grinvalds, Shutterstock Inc
It used to be that, aside from making calls, we could do little more with our phones other than using the built-in calculator function. Needless to say, things have changed quite a bit. Ever since the advent of smartphones, we've seen apps for just about any function that you can imagine. Scan through the iTunes App or Google Play Store on any given day and you'll see dozens of brand new apps and more are developed and released every single day. With millions of apps to choose from, it makes finding one that's useful like finding the proverbial needle in a haystack.
At the same time, productivity continues to be a daily struggle. We attribute some level of our unproductivity to procrastination and distractions, which — perhaps ironically — seem inevitable as our smartphones keep us connected and informed of what's happening on social media, on the news, and at places where we cannot physically be. It seems natural, then, that we would turn to our smartphones for help, hoping that there were some way these devices that so often prevent us from attending to important tasks would be able to help us complete them.
Fortunately, there are a variety of tools that are meant to make us more productive, responsible members of society, and we can access them right on our smartphones. Here are some apps that will help improve your personal productivity.
It's likely that you've at least heard of Wunderlist already, but if you haven't, prepare to meet your new best friend. As the name implies, it's one of the multitude of to-do list-making apps available for smartphones, but Wunderlist stands out for several reasons. First, Wunderlist isn't just an app; while it's available for free on Android and iOS devices, it's also accessible on the web. This means that once you create and sign into your account, you can create and edit your to-do lists on one device, then access and continue them later on another. You can also create multiple lists, sorting tasks by their subject or some other label of your choosing.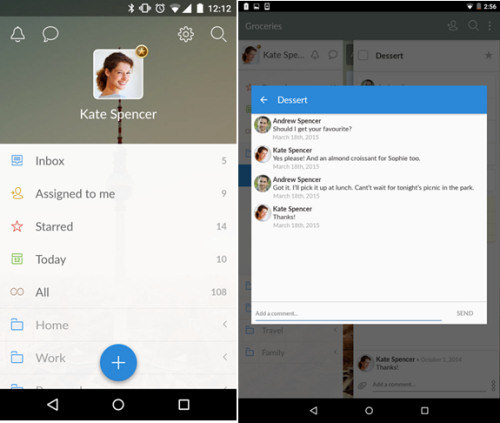 Wunderlist via Google Play Store
Wunderlist also supports adding multiple users to a list, which offers great functionality both at work and at home. In the office, this means you could have a to-do list of tasks for a department that anyone in that department can access and work on, then have separate lists for individual people for projects and tasks assigned on an individual basis. At home, this translates as being able to create a master chore list, for example, then creating a grocery list for your spouse and assigning individual tasks to your teenager. Users need only to have an Android or iOS device, the app, and a Wunderlist account to be added to lists or create their own. Users added to a list can even exchange messages with each other right there in the app. As such, Wunderlist is an incredibly powerful app with great potential for not only your personal productivity, but also helping you to keep your employees or family more organized as well.
Do you find it difficult to keep track of your expenses anytime you're traveling in the name of business? Do you not only lose receipts, but also hours of your time creating incomplete expense reports? Shoeboxed is the app you need because it can do all of the dirty work for you. Available for free on both Android and iOS devices, and offering web access like Wunderlist, Shoeboxed lets you scan receipts using your smartphone's cameras, then collates and organizes all those business expenses for you. You can also do the same thing with all those business cards that associates were handing you; simply scan them into the app, then let Shoeboxed create a contact list by pulling the info from those business cards.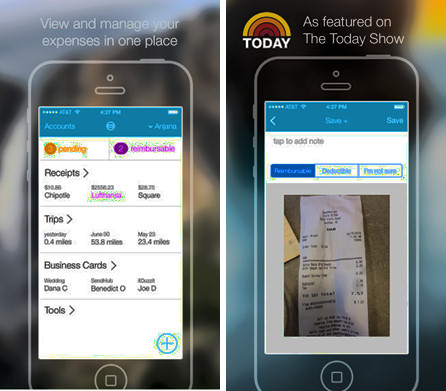 Shoeboxed via iTunes App Store
When you return from your business trip, Shoeboxed will have a detailed expense report ready for you to send, which you can also do right there in the app. Shoeboxed saves you time, the hassle of trying to hang onto all those receipts, and perhaps most importantly, is a free cloud-based service that you can access on all your connected smart devices. And even though it's marketed for business trips, Shoeboxed can also be used by the thorough record-keepers among us, by entrepreneurs, and by those who freelance and need to keep track of expenses accrued in the line of duty. Having a detailed record of all business-related expenses will be an incredible relief come tax season.
If you're not already using Google Docs, you probably will be eventually. Google Docs almost single-handedly brought word processing to the smartphone when probably just five years ago we all would have agree that we've never want or need to create and edit documents on a smartphone or tablet. However, Google Docs is a well-made, easy-to-use mobile word processor that can easily import and export files in the most essential document file types, such as Microsoft Word files and PDF files.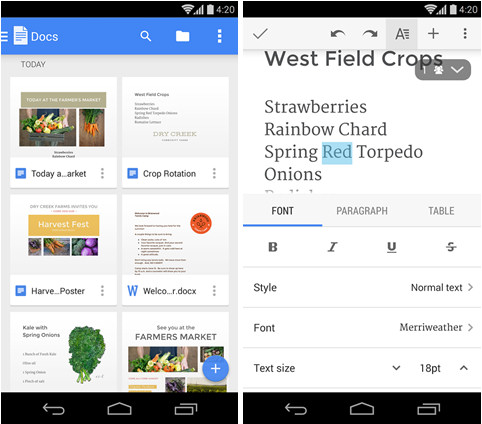 Perhaps the most useful feature of Google Docs is its seamless integration with Google's free cloud storage service, Google Drive. When you open or create a document in Google Docs, it's automatically saved to your Google Drive while you have the option to save it locally on the device you're using. Google Docs also auto-saves your work after every change you make, even if that change is as trivial and small as a single letter or punctuation mark. This makes it essentially impossible to lose any unsaved changes, which is a godsend when it comes to word processing — anyone who has ever lost hours of progress after Microsoft Word crashed will agree — and also means the document you're seeing will always be the most up-to-date version. Since you can share documents with other users to work on a project remotely and simultaneously, it's good to know that you're working on the most current version and not spending time making changes that were already made by someone else.
It's also useful to be able to type up important documents right from your smartphone. You probably won't want to use your on-screen keyboard to write a term paper, but it's good to know that if you ever needed to make small changes while on the go, Google Docs certainly gives you the option. On the other hand, you could connect a Bluetooth keyboard while you sit in a coffee shop or library and type longer documents more comfortably. Google Docs is an incredibly capable mobile word processor that's free for Android and iOS devices, accessible on the web, and proves that it's not unrealistic to create and edit documents on the go.
For more information, head to Modernize.com.
Post by Guest Blogger Dane O'Leary