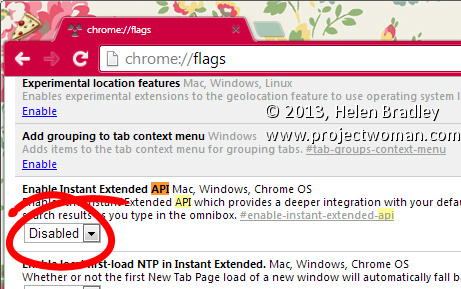 If the new Chrome Update (Sep 2013) messed up your browser, here's how to get the old look back
Ok, I am rightly angry – my Chrome browser just updated and all the Apps that I had configured and which I use daily because, hello Google I need them and want to see them as prompts – disappeared.
Sure, I can click the new little Apps button to get them back – I get that – but why? I had Chrome all nice and organized – I didn't need Google's input to fix it… just like I don't expect Google to walk into my house and rearrange my desk or my bookshelf or anything else I have organized the way I want it.
So, rant aside, here's how to fix Chrome and put it back the way it used to look:
1.    Go to the address bar and type this in:
chrome://flags/
2.    Press Enter and then search for this word:
Extended API
This will take you to the Extended API option which is set to Default
3.   From the drop down list choose Disabled and then close and reopen Chrome.
Voila! your browser is now restored to its former glory!
Related posts: