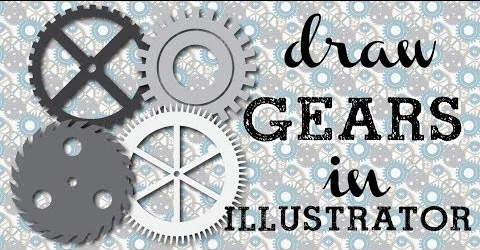 Love Steampunk? Then you will love this video on how to draw steampunk style
I just love all things steampunk and gears and fancy metal shapes are key to the steampunk genre. In this video you will see how to draw steampunk style gears in Illustrator. This is a great tutorial for beginners as you will learn about rotating shapes and how to rotate a shape around a point of your choosing in Illustrator. You will learn to combine shapes, subtract one shape from another and an entire range of useful Illustrator tips and tricks that will help you in your other designs in future.
The gear shapes vary from simple to more complex to draw so you will build Illustrator skills as you work through these shapes. You will see how to make holes in your gears so the background will show through the gear and how to add small edges to the gears using a simple rotation technique. Learn to group objects so they move as one element and so they don't split apart when you least expect it. There are four fun gear shapes here to draw and, when you have finished this tutorial you should be able to design and draw your own gears with confidence. If you are looking for inspiration when you are designing your own gears I suggest you Google "Steampunk Gears" as this will turn up a heap of great gear images that you can use as inspiration for your own designs – I am always amazed at the awesome shapes I find when I do this which I can use as a basis for my own custom steampunk inspired gear drawings.