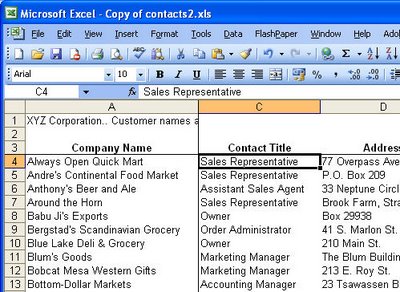 When you're working on a very big spreadsheet it can get confusing as to what the headings are for the various rows and columns when you move away from the top most cells.
A simple way to solve this problem is to freeze panes – it's a funny term for something that actually is very handy. Move so that cell A1 is located in the top left corner of your worksheet area and then position your cell pointer just below the set of headings that you want to see and just to the right of the column headings if they're important too.
Choose Window, Freeze Panes and Excel will freeze the area above and to the left of where you are working. Now if you move around the worksheet wherever you happen to go the cells on the left and top of the worksheet will always be there.
If you need to undo the effect choose Window, Unfreeze Panes and it will all be back to rights. My guess is that you'll like it so much that you won't want to change it anyway.