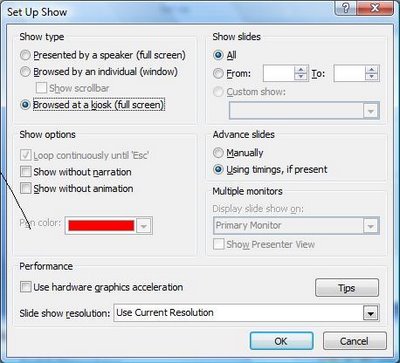 You're not always going to be there when a presentation shows. Some PowerPoint presetations are shown on computers where not one is in attendance or you might want to send an autorunning slideshow to mum to show off your latest pix.
These work if they're set up as Kiosk presentations. You need to set the presentation so the slides more forward after a period of time and not by mouse click. Do this on the PowerPoint 2007 Animation tab. Then choose the Slide Show tab and click Set Up Show. Choose Browsed at Kiosk and make sure the Advance slides option is set to Use Timings if present. The the show will run automatically without needing attention.
There you have it, hands free PowerPoint slide shows.