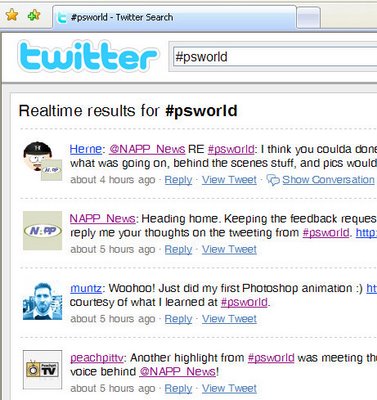 One issue with Twitter is that there can be things happening in Tweets that you'd be interested in reading but which you may not know about. So, for example, people you don't follow may be talking about subjects of interest to you or, as happened to me this week, I was at Photoshop World and I wanted to read other people's tweets from the conference although I may not choose to follow those folk on a more permanent basis.
So, when you want to share information relating to a particular and discrete topic you can use hashtags. Hashtags were, so far as I can understand, first supported via a website called hashtags.org. Provided you add hashtags to your Twitter posts and you Follow hashtags on Twitter, hashtags.org tracks the tweets that you post that have hashtags in them and makes them easy to find. A hashtag is simply the hash character (#) put in front of a tag name.
So, for example, at Photoshop World in Las Vegas, the tag #psworld was used to discuss things relating to the conference by attendees using Twitter. By following hashtags, any posts that you created that had the #psworld tag in them would be tracked automatically by hashtags.org and could be viewed on that site or followed using an RSS feed. However, it seems that although this should work in theory, it didn't in practice and still the #psworld tag doesn't appear in hashtags.
The simpler solution is to use Twitter itself to show you the tags. Simply visit http://search.twitter.com and in the search field type the tag you want to follow, for example #psworld and click Search. Now you'll see all the tweets which include that tag. You can also grab a RSS feed for this query by clicking the RSS button in the search window.
When you track the hashtag information on either Twitter or Hashtags.org you can read tweets posted by anyone using that tag whether or not they are someone you typically follow. Of course, if you find someone posting regularly using a tag that you're interested in then you can click their icon to see who they are and to follow them if desired.
So, here's what I suggest:
1 Follow hashtags on Twitter (optional since its performance seems to be erratic)
2 Add #tag_name to your Twitter posts
3 Use search.twitter.com to find and read other's posts on a particular topic.
4 If you're attending a conference or tradeshow, try to find the hashtags used by other attendees so you can keep in touch with what's happening.