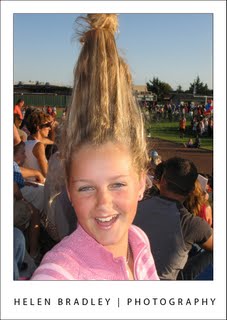 If you think back to English composition lessons at school, your teacher, like mine would have told you that a story needs a beginning, a middle and an end. Photographing an event is like telling a story except that, instead of telling it in writing, you're telling it in pictures. Like a story, your photo story needs a beginning, a middle and an end.
All too often, our photography captures the middle or end of the story and the rest isn't photographed. If you make sure to set the scene with your photos, you'll have everything you need to scrap an entire event.
So, when you next head out with a picnic basket in hand for an afternoon by the river, start photographing before you leave home. There are stories to be told of little Hannah who always looses her shoes, Mum making piles of sandwiches, teenager Tim who wants to take his new computer game with him, and lots of other typical family behaviours to record. When you're at the picnic spot, take a photo of your favourite place by the river and the lunchtime spread before everyone tucks in. Later on, photograph what remains when they're done and dad as he snores the afternoon away under a tree.
Finally, photograph everyone jammed into the car ready to head home and the mess of gear piled up in the front entry waiting to be returned to its place in the house when you've unpacked.
An unexpected story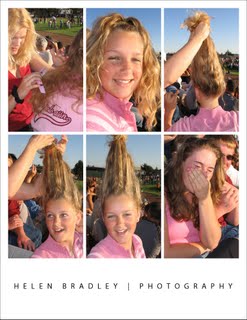 These photos tell the story of Casey's funny hairdo from beginning to end and the effect she had on bystanders.
In the photos above, Casey created her funny hairdo as we sat waiting for a graduation that was late starting. The photos have nothing to do with the event itself but it is a few minutes of laughter that none of us who were there will ever forget! The story unfolds in the photos – they show not only the hairdo she created but the action leading up to it and the reaction of those sitting close by when they saw it.
When you focus on capturing an entire story rather than just individual shots you will find you have fresh adventures to capture with your camera.