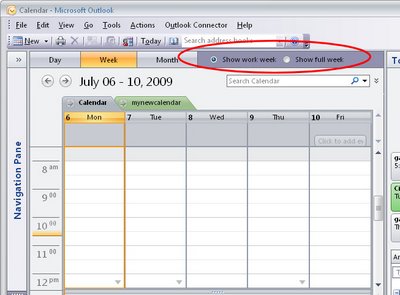 If your weekends are as full of activities as your weekdays are, you may want Saturday and Sunday to display in the Outlook 2007calendar all the time.
To permanently display Saturday and Sunday, choose Tools > Options > Preferences tab and click the Calendar Options button.
From the dialog select the checkboxes for both Saturday and Sunday and click Ok.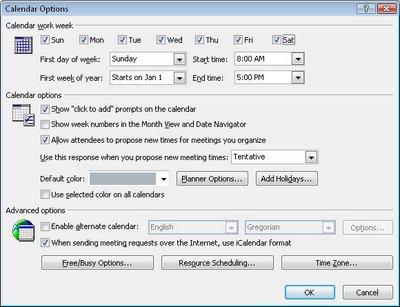 This dialog is also useful for setting a non traditional work week. If you, like my friend Frank, work from Sunday to Thursday, you can set up your work week by selecting checkboxes for those days you actually work and disabling them for other days that are your "weekend" days.
Only these days of the week will now appear in your Outlook 2007 calendar display when you have Show Word Week selected.
To toggle between viewing the Work week and the full week click the appropriate buttons on the Calendar toolbar.
If you have come to Outlook 2007 from an earlier version of Outlook, you should know that the old Compress Weekend Days option for showing Saturday and Sunday compressed into a single column is now no longer an option in Outlook 2007.
If you need to print calendars so that weekend days share a column, download and install the Calendar Printing Assistant for Outlook 2007 from here:
http://office.microsoft.com/en-us/outlook/HA101687211033.aspx