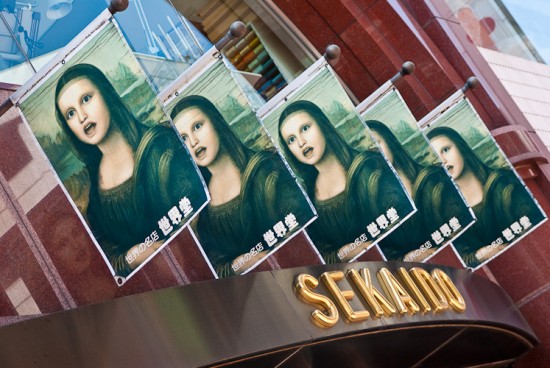 Yesterday I spent a few hours in Sekaido, a 7 storey art supply store in Shinjuku then headed out to Ginza as I hadn't been there before. There are some seriously funky things here – it was Saturday so they close some of the main streets and put tables and chairs out for people to sit at. The neon is pretty amazing the shops – well let's just say expensive and big name. In the Sony building the stairs play music as you climb them! All in all – fun and well worth a visit but it's far from being my favourite place in Tokyo.
For my money, Shinjuku is far more interesting and colourful and there are way fewer tourists there. I've found some cool graffiti and sticker art around Shinjuku too which is an unusual find in Toyko.
But today is Sunday so I'm headed to Harajuku with high hopes of some amazing shots – it's the centre of youth culture and dress up is the name of the game.
For now, click here to view a gallery of Ginza and Shinjuku street art images.