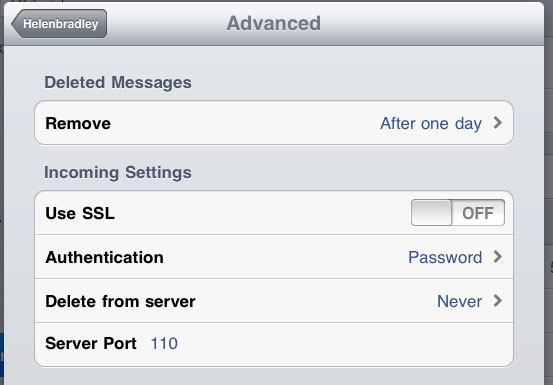 There are a few ways to delete multiple emails at a time on the iPad, none of them particularly intuitive and there is no big Select All option so it has to be done individually:
Start by turning the iPad into landscape mode and click the inbox. If you click the Edit button (top left) then you can select multiple emails to delete very quickly. Then click the Delete button which appears bottom left.
To make sure I don't have too many emails to deal with at a time, this is how I have my email account configured:
First of all, because I deal with email on my desktop, I don't want the iPad to delete emails from the server so that option, in Settings > Email is set to Never. To find it, click your account name and click Advanced.
Then I set the Remove option in this same dialog to After one day.
All these settings and actions make checking emails on the iPad a fairly simple process – but I, like you, wish there were smarter Select All and Delete All options.