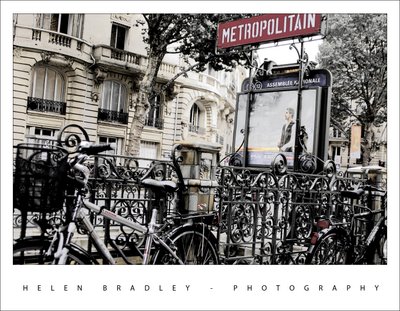 This was one of my favourite shots of the Paris metro stations. It was a throw away shot – I just took it walking past because I loved the bikes around it and there weren't many people around.
I dumped most of the color in the photo as it just looked so good when you look at the blacks and whites in it.
I duplicated the background layer and turned the top layer into a black and white using the new Photoshop Black and White adjustment layer which lets you select which direction to take each colour into. It's way more sophisticated than anything we've had in the past. Then I adjusted the opacity of the layer a little to show some of the colors from the layer underneath. The result is an almost ethereal photo. I've put it on a white tee shirt at CafePress in my store if you like it and want to wear it.