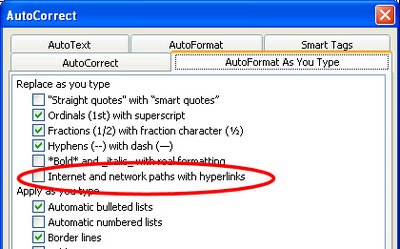 When you copy and paste text from the web into a Word document, typically the hyperlinks come too. If you don't want them – if blue underlined nonsense peppering your text offends your sensibilities (as it does mine) – here are some thoughts for removing hyperlink formatting from your text.
One option is to select the link and choose Insert > Hyperlink (or press Control + K) and click the Remove Link button in the dialog. That's the hard way in my book.
Easier still is to select the text and just press Control + Spacebar. That strips the formatting from the text – leaving it as plain text. It also works to strip formatting from any text, a handy shortcut to know.
Now, if you get hyperlinks whenever you type a URL or email address you can stop this from happening by choosing Tools > AutoCorrect Options > AutoFormat as you Type tab and disable the Internet and network paths with hyperlinks option. Now you can type all you like and the AutoFormat won't affect your text.