You can quickly insert text from a file into your document using Word's Text from File command. This used to be as simple as choosing Insert > File  but the command got hidden behind an additional layer of the UI in Word 2007, making it almost entirely invisible to most users.
To insert text from a file in all recent versions of Word, open the Insert tab in the ribbon and, in the Text settings find the Object button. Click the small arrow to the right of the Object button, and choose Text from File…. Choose the file you want and click Insert. The file type selection here defaults to Word documents only, so if you wish to insert a .txt file or other non-Word document, you'll have to change the file type to your desired type or All Files.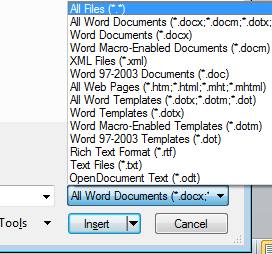 If you insert a Word document it will include all elements of the document such as images and special formatting. If you wish to include the file's header or footer (if it has one), you should insert the file into a new section of your document. Be careful when inserting multiple files with different formats, since text from one file may take on another file's format if the inserts aren't separated properly.