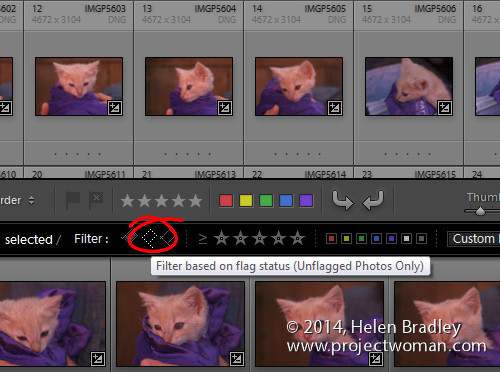 Need to check what you didn't pick in Lightroom – here's how!
My workflow for choosing the best of my photos in Lightroom is to go through the photos in a folder and either click the Pick flag, the Reject flag or simply move past the photo onto the next one. Now sometimes I'd like to review the photos that I  haven't picked – they aren't the best but they aren't rejects. I will do this just in case there are some good images I have overlooked.
So, how do you display only the unflagged photos? Luckily it's dead easy to do this.
These icons across the top of the filmstrip are, from right to left: Show Flagged Photos (ie Pick Flag is on), Show Unflagged photos (no flag present) and Show Rejected photos (Reject flag on).

So, click the middle flag to see only those photos that don't have either the Pick or Reject flags enabled.
Now, if you add a Pick (or Reject) flag to one of the images it will immediately disappear from view – that's because this filter is a live filter – it only shows the unflagged photos and as soon as a photo has a flag it no longer matches the filter so it is removed from view.
Of course, when you are done, make sure to select Filters Off from the Filters: list (or click the same flag a second time) to return to viewing all your photos.