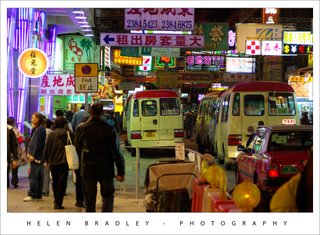 I really did not enjoy the experience of the Temple Street night markets in Hong Kong. Before I went there, I'd spent two days looking around Hong Kong at what I thought would be fun to see. And it was.
The guide book gave a wrap to the night markets, but as a place to hang out, it sucked – big time. The worst part were the hawkers spruiking knock off handbags and custom tailoring – I wasn't sure that this was a lack of insight on their part – I don't wear custom tailored stuff – or a "not so subtle" comment on my sloppy dress standards. Suffice to day, it didn't wash.
However, there were some good photo ops and this was one of them, taken looking up a crowded street. The lights, neon signs and all the activity was wonderful if you were prepared to look only superficially at it. Under the surface were too many junky souvenirs and way too many tourists!