by Helen Bradley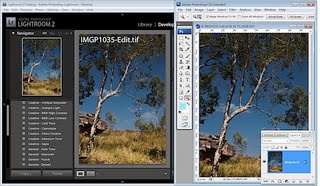 There have been questions posted as comments recently asking about the role of Lightroom in a photographer's workflow. Many posters who are not currently using Lightroom aren't sure whether Lightroom it is an alternative to Photoshop or where it fits if you have Photoshop too. I thought it was a good time to look at where Lightroom fits in the Adobe line up and to explain why Lightroom isn't a Photoshop alternative.
Lightroom was developed from the ground up as a tool for photographers and one which would provide a logical workflow for processing a lot of images in an effective and efficient way. Photographers have special needs for handling images from photo shoots and these aren't necessarily reflected in how Photoshop is designed.
When you handle a lot of images in Photoshop you download them and preview them in Bridge. If they require fixing or printing, you take them via Camera RAW (if they are Raw files) to Photoshop. In Lightroom most of your workflow takes place inside Lightroom – Lightroom contains the organizing tools of Bridge and the processing tools of Camera RAW so, if it is an alternative to anything it is better seen as an alternative to Bridge and Camera RAW rather than to Photoshop itself.
In Lightroom you import only those images you want to use and manage inside Lightroom. If an image isn't in the Lightroom catalog then Lightroom cannot see it. This is in contrast to Bridge which shows you the entire contents of folders on your hard drive. In Lightroom you can build preview images as you import them or later on and these are also stored in the catalog – this makes it quicker for you to view and work on your images in contrast to using Bridge.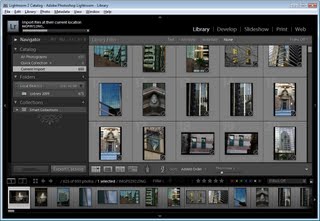 Lightroom's Library module also contains tools for managing images such as adding keywords, sorting and cataloging them.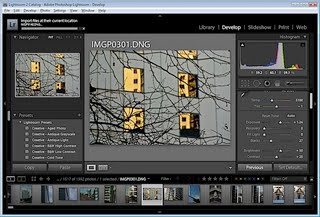 The Lightroom Develop module is the equivalent of Photoshop Camera RAW and it contains tools for applying image wide fixes. You can use these on any image that Lightroom can import and this includes Camera RAW images, JPEGs and Tifs.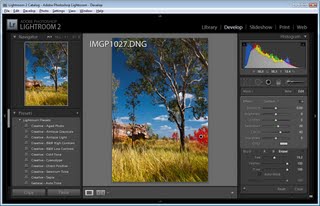 Lightroom also has a few tools which let you fix limited areas of an image, such as the Clone, Heal, Graduated Filter and Adjustment Brush. However it is here that the differences between Photoshop and Lightroom are most apparent – there are lots of things that Lightroom cannot do that Photoshop can. Photoshop is a pixel editor so it can be used to affect images all the way down to pixel level – Lightroom isn't. Photoshop supports layers and layer masks, Lightroom does not. Photoshop can merge panoramas, HDR sequences and align and blend layers – none of these features appear in Lightroom. In Photoshop Extended you can work with video and 3D – again these aren't features of Lightroom.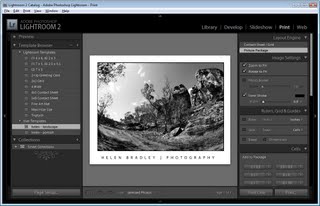 Other modules
The remaining modules in Lightroom are SlideShow, Print and Web which are tools for displaying images either as slideshows, web pages or assembling them for printing. Some of the same things can be done using the combination of Bridge and Photoshop but this is where Lightroom tops Photoshop. The Lightroom tools work better because your images are already there, organized, open and ready to work with and the tools are very fast.
Where does Lightroom fit?
So, if you are asking yourself if Lightroom is an alternative to Photoshop, the answer is No! It is, however, a possible alternative to using Bridge and Camera RAW although there may still be times if you are using Photoshop and Lightroom that you may still opt to use Bridge rather than Lightroom. For example, Lightroom can't handle the wide array of file types that Bridge can and sometimes you won't want to import images into Lightroom – for example if you use stock images you may not want them mixed up with your own photos. In this case you may choose to access them from Bridge rather than going to the trouble of importing them into Lightroom.
Most people who use Lightroom report significant savings in the amount of time they spend processing their images. This makes sense as all your images, once they are imported into Lightroom are immediately available and you can edit them without opening them and changes are saved inside the Lightroom catalog and not to the file itself (unless you change the default behavior). Most people who use Lightroom also report that they use Photoshop less than they did before because many of the fixes they might have performed in Photoshop can now be managed in Lightroom. Since I made the commitment to Lightroom, this is my experience – much less time spent working on images overall and much less time spent in Photoshop.
There are many people who can benefit from using Lightroom to manage their digital photo workflow and there are many who will not. If you work with lots of images, if you need to apply the same fix to multiple images, if you need to get your images from the camera and out to your client in a very short time – then Lightroom totally rocks.
On the other hand if you create composites or spend most of your post production time on a handful of images perfecting them by editing them and crafting them into your vision, then Lightroom may not offer any significant advantages. Remember too, that any program will take time to learn and Lightroom doesn't always follow the Photoshop style of doing things so there is a learning curve you'll need to commit to before you will feel at home in Lightroom.
So, there's my take on Lightroom and Photoshop. Now it is over to you. What has your experience been – do you use Photoshop less now you have Lightroom? Did you try Lightroom and not continue? We'd love to hear