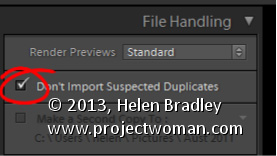 Avoid duplicate images in Lightroom by importing Only New Images
There is little that is more annoying than having duplicate images in your Lightroom catalog. Duplicate images not only take up room on your disk but they also bloat your catalog and can cause confusion when you are working with your images.
To ensure that you don't import images that are already in your catalog, enable the Don't Import Suspected Duplicates checkbox in the Import dialog. With that setting enabled you will no longer be able to select to import images that are already in the catalog. So any images that you can select to import aren't duplicates so it is safe to import them.
This feature is particularly useful when you only want to import images from a camera card that you haven't previously imported into the catalog.