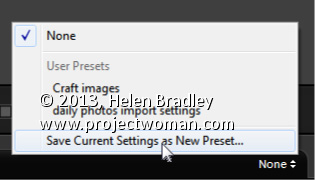 Save Time when importing photos by Creating an Import Preset
If you use the same options every time you import your images into Lightroom, you can create an Import Preset to speed up this task.
Start by selecting Import to open the Import dialog and go ahead and select those options you generally want to use and then locate the Import Preset option at the foot of the Import dialog. Click the drop-down list and choose Save Current Settings as New Preset. Type a name for the preset and save it.
In future you can select this preset when you are importing images. This gives you, at the very least, a starting point for your import as it sets up the import dialog to match the settings you saved. If you wish, you can make changes to the settings without altering the preset, allowing you to use it anytime.
You can create multiple import presets for different situations so you can select the most appropriate one to use each time you import photos.