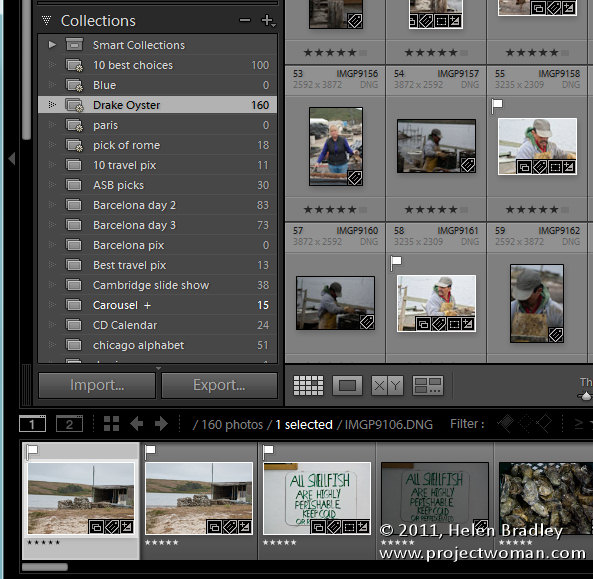 Collections in Lightroom are a key tool for organizing images. There are some benefits to working with collections and some things that it helps to know about working with them.
Collections: Smart or regular?
There are two types of collections in Lightroom, Smart Collections which are populated according to a filter which you define to identify images that you want included in that collection. For example, a Smart Collection might be defined as 5 star images which have a keywords that include the word Rome.
Smart Collections are dynamic so if an image no longer matches the filter you have defined for that Smart Collection it will be removed automatically from it. Likewise, newly imported or edited images which fulfill the criteria will be added automatically to that Smart Collection.
Regular Collections are collections that you populate with images that you choose to put in them. Images remain in these collections until you chose to remove them.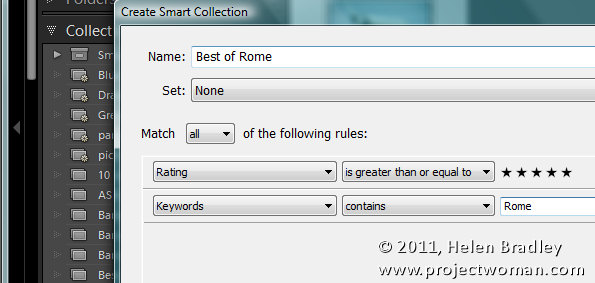 Sorting images in collections
You can sort images in order in a regular collection but you cannot reorder images in a Smart Collection.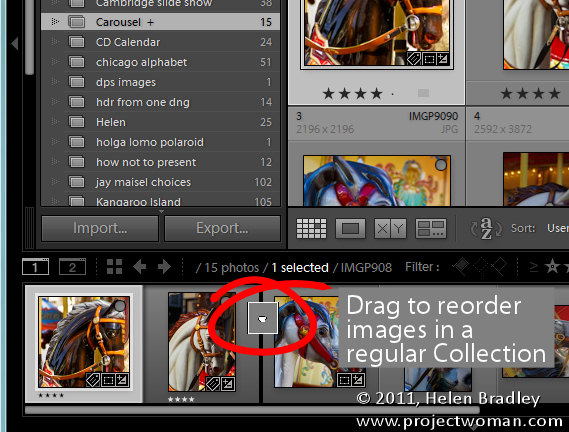 Target Collection
You can set a regular collection – but not a Smart Collection – to be the Target Collection. There can be only one Target collection and to make a collection a target collection, right click on its name and choose Set as Target Collection.
In future, you can add images to the Target Collection by pressing the letter B. Press the letter B again to remove the image from the Target collection.
You can identify which collection is the target collection by the plus (+) symbol which appears after its name.
If you deselect the current Target Collection by right clicking its name and disabling Set as Target Collection then the Quick Collection, by default, becomes the Target Collection.

Gather images without duplication
One of the benefits of using collections to organize images is that the images in a collection can come from any location of your choice. You can create a collection of images from a number of different folders or even drives on your computer. Collections are simply a pointer to the original image, not the original image itself, so they require little additional space on your computer to store them. An image can belong to multiple collections and it will still only exist in one physical location on your computer.
Where is that image?
To find where an image in a collection is stored, right click on the image and choose Show Folder in Library to go to the folder in the Lightroom catalog. Alternately, choose Show in Explorer to see it in Windows Explorer (Show in Finder on the Mac).

 Collections not in the Collections Panel
While most collections are listed in the Collections Panel, there are some collections that are not. In the Catalog panel you will find the All Photographs collection which is a collection of all the images that you have in your Lightroom catalog.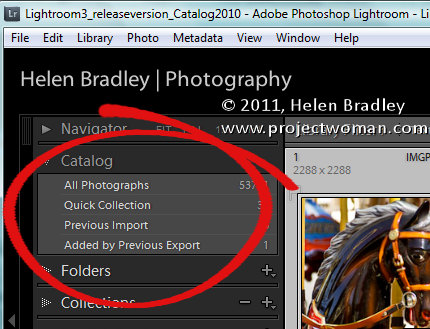 Quick Collection is a temporary collection that you can create as needed.
Previous Import is a collection containing the images in the most recent import – it changes every time you import new images into Lightroom.
Added by Previous Export is a collection of those images that were most recently added to the Lightroom catalog as they were exported from Lightroom. There is an option in the Export dialog that lets you automatically import exported images back into the catalog.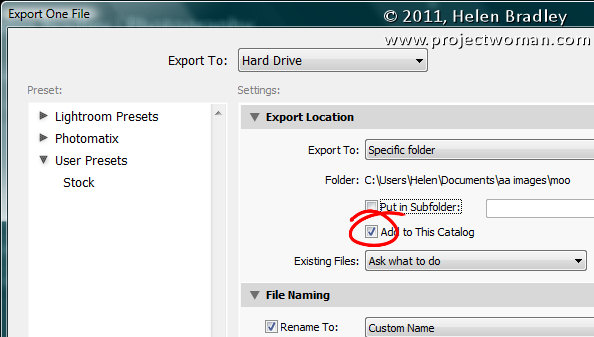 Three Handy Collections
There are three handy collections that are automatically created by Lightroom and which appear in your Smart Collections set. The Without Keywords smart collection contains every image in your collection that does not have keywords associated with it. It's a handy reminder of the keywording work you still have to do.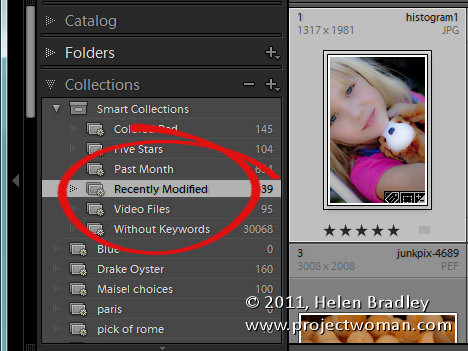 Recently Modified is a collection containing images that have been modified within the last two days. You can alter the date range by right clicking the collection, choose Edit Smart Collection and change the number of days listed. You'll see that by default it reads Edit Date… is in the last…. 2….days. You can change Days to Hours, Weeks, Months or Years and change the physical number from 2 to any number of your choice.
The Past Month collection is all the images that you have shot in the last month.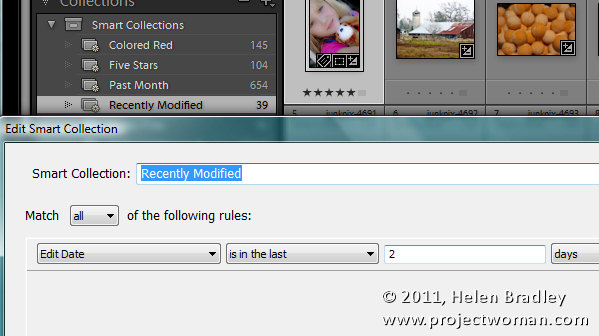 Managing temporary collections
If you often make collections that you only want to keep for a day or two to complete a particular job, either create a Collection Set to contain them or add the word "temp" to the collection name. This makes it easy to see collections you can easily delete to remove clutter from your Collections panel.