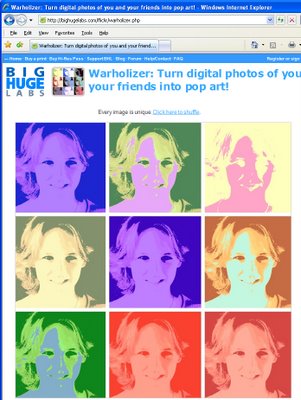 Not all good applications come in big shinny boxes like Photoshop and Photoshop Elements. Many cool photo apps are available on the web and they're free.
These apps do things that other programs don't. They are fun to use and practical. In this Cool Photo Apps series I'll show you some of these.
Let's start at the online site bighugelabs.com – it has lots of good niche applications and the one we'll look at today is the Warholizer. Find this at http://bighugelabs.com/flickr/warholizer.php. Here you can upload a photo and the site will create a series of nine mini Warhol like images from it.
If you don't get great results, try increasing the contrast in your photo before you upload it to see if that gives you better results.
You can use the Warholizer with images you upload from those stored on your computer, you can grab pix from your Flickr or Photobucket account, or use an image located on the web by providing its URL.