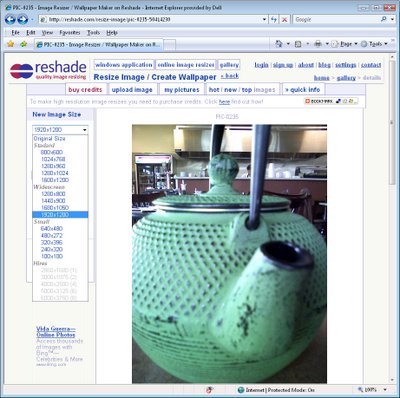 Not all good applications come in big shinny boxes like Photoshop and Photoshop Elements. Many cool photo apps are available on the web and they're free.
These apps do things that other programs don't. They are fun to use and practical. In this Cool Photo Apps series I'll show you some of these.
Occasionally, you might want to resize an image by increasing its size – for example, when you need to make a cell phone photo large enough to print letter size!
While photos generally downsize well, upsizing them can be fraught with difficulties because you're trying to create content that doesn't exist.
One tool which does a good job is Reshade.com. You can use the program online or download an offline version to install on your computer.
Here's how to use the online program:
Step 1
Click the Start Here button in the 4Online Image Resizer box.
Step 2
Click Browse to select the photo to upload from your computer. Click Open and then click Submit.
Step 3
Once the image appears on the sites elect the size to upsize the image to and you can also select to Smooth, Sharpen, Crop or Stretch the image although some of these require you to register on the site and high resolution resizing can be purchased for a small fee.
Step 4
When the process if complete you will see the resized image on the screen. Right click and select Save Picture As to save the image to disk.