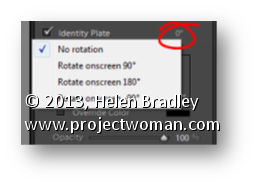 Invisible Clickable Rotation Options
In the Print module, watch out for items that don't even look like they are selectable. For example, in the Page panel's Identity Plate area, when you have the Identity Plate check-box enabled you will see a small indicator to the right of it showing the current rotation in degrees.
When you click this you'll see a popup menu offering other rotation options to choose from.