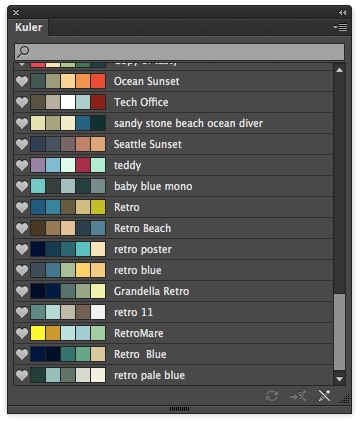 Notice the refresh icon is greyed out!
Help! Kuler won't sync with Illustrator!
Unfortunately when Adobe changed how Kuler works with Illustrator CC they broke a great tool. Instead of being able to search for color schemes from inside Illustrator you now have to do this on the web and favorite a color scheme if you want it to appear in Illustrator. At least that's the theory – in practice Kuler is very slow to update in Illustrator making it nearly impossible to use it in a meaningful way – unless you know how to force it to update.
While you should be able to click the Refresh button at the foot of the Kuler panel most of the time this is greyed out – so you can't force a refresh. The only solution that reliably works for me is to sign out of your Creative Cloud account inside Illustrator then sign in again.
So, to force the update, go to Help and click to sign out – in practical terms you are deregistering your Adobe account on this computer for now. Now close Illustrator and restart it – when prompted to do so, log in to your Adobe account and voila! Kuler will update.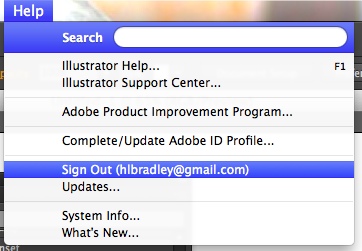 Seriously Adobe really should be more proactive in fixing this stuff when it breaks like this. It shouldn't be too hard to do – just make the Refresh button do what it is supposed to do!
For what it is worth, the problems with Kuler occur with both the Windows and Mac version of Illustrator.