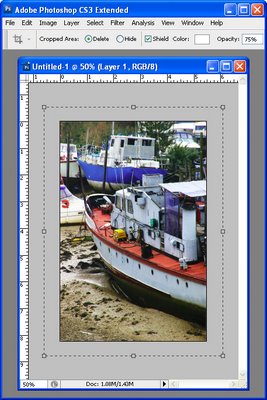 I'm spending the week in Las Vegas taking in all the best that PSW (Photoshop World to those in the know – now you're included!) has to offer. It's a great opportunity to take classes from the likes of Scott Kelby, Matt Kloskowski, Jim DiVitale and photographers Moose Peterson, Joe McNally and Vincent Versace.
My best tip and one I've seen quite a few instructors embrace is the crop canvas enlargement. It works like this, you use the crop tool to enlarge the canvas – seriously.
To do it, shrink the image down using the Zoom tool then enlarge the window so you have a little image and a big window. Click the Crop tool and drag it on the image, it won't go any larger than the image right now – don't panic.
Let go the mouse now drag the crop marquee handles outwards. Do it on all the sides that you need to add canvas. To do it evenly all around, hold the Alt/Option key as you drag on a corner handle. Check your background color as that's the one that will be used to fill the new area. Press Return/Enter and you're done.
Wow… one to show your friends just how good you are – you can now use the Crop tool to make an image bigger!