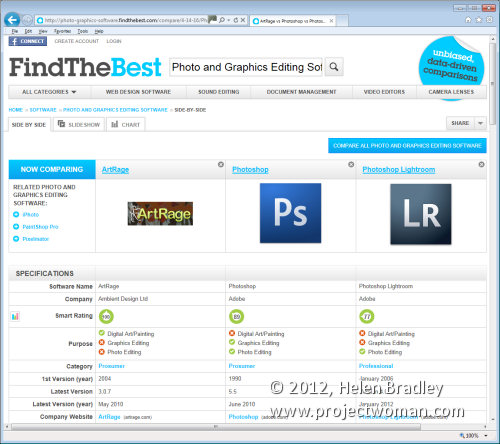 If you're in the market for some new graphic software the first thing you'll want to know is what's the best for you. The folks at findthebest.com have done a lot of the work for you.
Visit the website and you can select to compare a range of applications. I've selected Photoshop, ArtRage and Lightroom – 3 very different applications, and then I ran a compare on them. You'll get a heap of information including the Smart Ranking, what the purpose of the software is, the latest version and all sorts of details including ratings from the key sites such as PC World, PC Magazine, CNET and MacWorld. There's plenty of information about supported file types, color spaces, help and online resources and whether or not the application runs on Windows or the Mac.
Findthebest.com is a great resource when you're looking to compare different programs. Use the slideshow tab to view simplified information about each selected application and click the chart to see how the applications compare.
There's plenty to like about this site when you need to get an overview of the kind of programs that you may want to use.
I think the interface looks a bit similar to those airline ticket site where you can sort by price, category and all sorts of things. Only here, you'll get the best photo editing programs not a ticket to London!