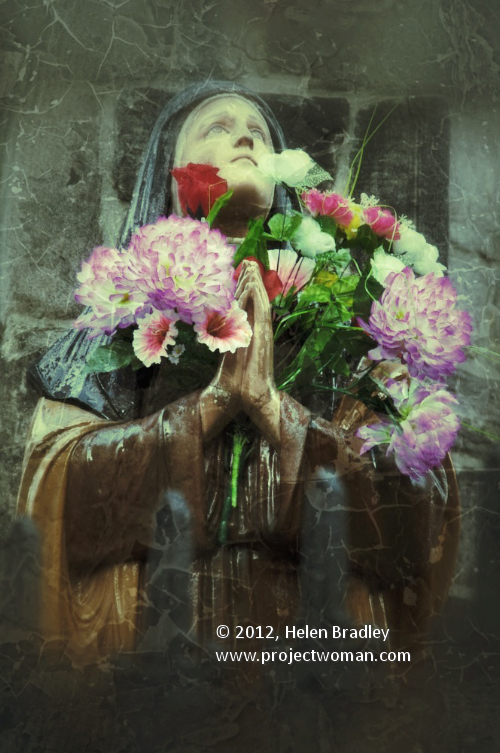 Download: Snapseed on the iPad – 4.99
Snapseed comes from the folks at Nik Software. It's an interesting app but can leave you more confused than enlightened regarding what you did to your image.
When you open the image there are selectable options all down the left of the screen – big icons to click on. Then everything gets really small and not a little confusing.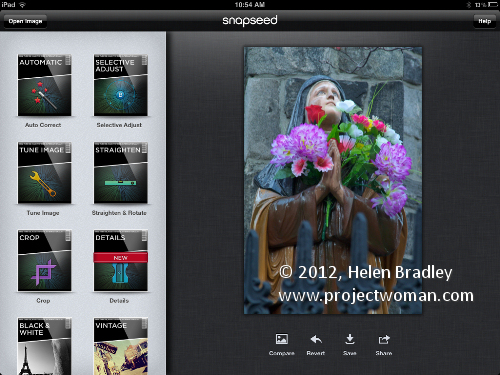 Some features let you add a control point to the image that you use to adjust just that position on the image – in others you swipe across the image to apply a change.
In the brightness fix, for example, you will drag across the image to adjust the brightness.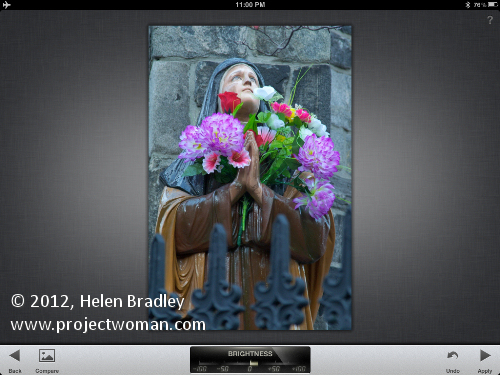 In other cases you swipe down to reveal different options. In Tune Image this means that options for Brightness, Ambience, Contrast, Saturation and White balance are all hidden from view and you have to 'discover' them to use them.
All these features are hard to discover when you first start working with the program and eave you wondering just who designs iPad interfaces and why they think that  hiding features is smart? There is plenty of room on the screen to put some sliders or options which would make this program much easier to use than it is.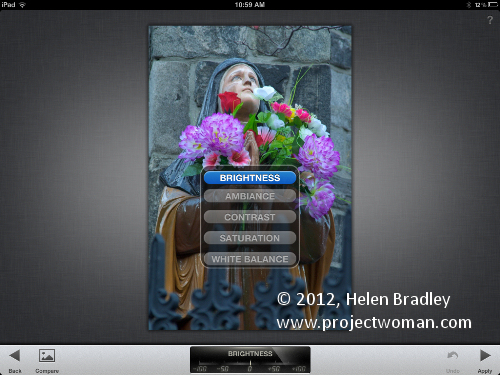 The Grunge fix has thousands of Styles which all tend to morph into each other – they aren't different enough to even care too much about. I'd settle for 20 really different effects to choose from than this range of thousands of similar ones. Worse still, if you choose Shuffle to apply an effect you can't easily see what number it is so you can reuse it. When applying styles you can also apply textures but the preview shows nothing about what that texture will look like!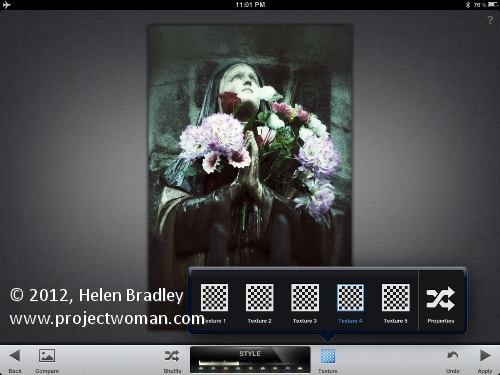 The program doesn't really seem to be too clear as to whether it is a serious fixing tool or a fun one for applying effects – it tries to take a bet each way and misses a bit on both counts.
At first looks it appears to be serious and the sample image is very attractive and well shot so grunge and vintage aren't the first things that come to mind when you open the app. The tools however, lend themselves more to the fun side with the Vintage, Grunge and Tilt shift features.
In the scheme of things, this isn't an app I'd use much. It is a bit too messed up for me and doesn't do anything well enough to be a tool of choice for general day to day work. Perhaps for the occasional photo it might offer something but this will be occasional only.
I don't dislike Snapseed I just don't really understand the point of it – it seems a bit haphazardly put together. I think if you used it a lot you could grow to like it, I just don't want to put that much effort into something that isn't feature rich.