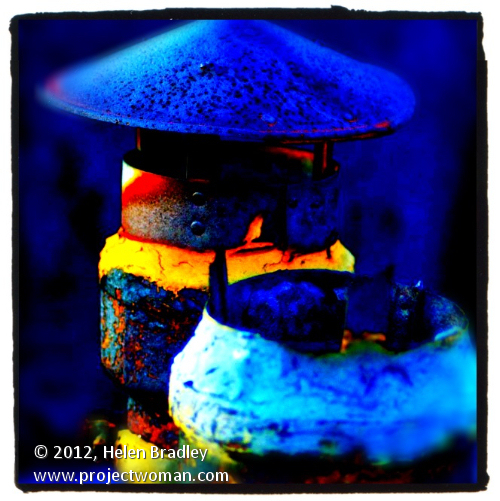 download: Photo Express on the iPad – free
When it comes to apps sometimes you get great value in free apps and other times you get rubbish. Photoshop Express falls somewhere between the two extremes – it isn't rubbish but it's far from great.
Photoshop Express has a very strange interface which left me tapping furiously on the screen trying to get it to do something – anything!  The problem is you have to swipe the screen to adjust the intensity of the edit? So, to increase saturation you choose the Saturation option then swipe across to the right to increase it or to the left to decrease – Ok – where exactly did that interface metaphor come from? I feel like I missed class that day and there is nothing  on the screen that makes this behaviour easy to discover.
Interface complaints aside this app lets you crop and fix your images and apply some effects to it.
Here is the crop/straighten/rotate/flip options: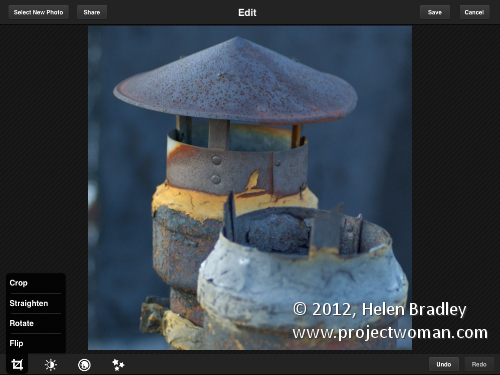 Here is the image with contrast and saturation improved: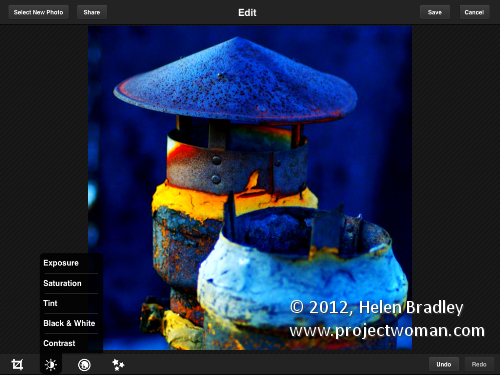 The noise reduction tool requires you to buy an add-in – OMG Adobe just gets some things sadly wrong and this is one of them! Either give the program away or don't but why do they make one fix a pay for feature? It makes no sense – and they could just have easily left out noise reduction altogether. If you want this feature, expect to pay a hefty $4.99 for it.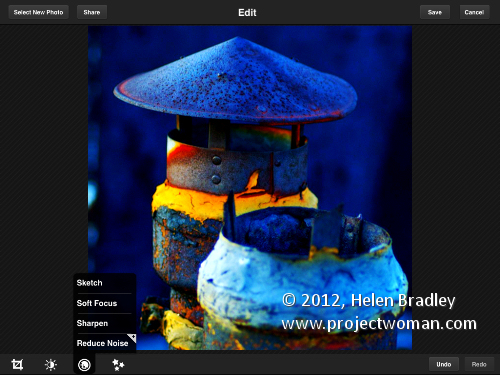 In the border area there are a handful of free borders and others you can buy but which you can preview on your image first – this is useful so you get to see how they look before you commit to buying them. They come as an all in pack of 22 borders for $1.99.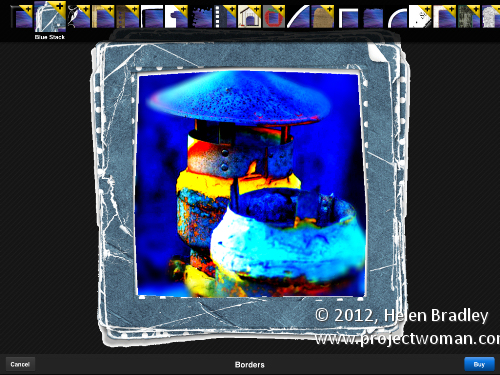 There is also a small range of effects you can apply by selecting the effect to add to the image.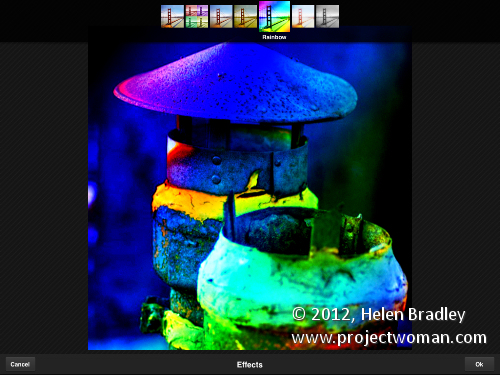 A lot of folks will download this app because it is from Adobe. Lots of these same folks will be wondering why they bothered to do so. This app is competent but it is hard to look past the silly in-app purchases and the screwball interface – Adobe is better than this – this app damages the company's reputation – why not do something like they have at photoshop.com?
You don't have to reinvent interfaces for the iPad and you don't have to make up new interface gestures for adjusting images when a slider will do just fine – if you use sliders folks can see the slider and work out quickly how to use it – instead here with the swiping you really have to guess how to make the thing work and you shouldn't have to do that.