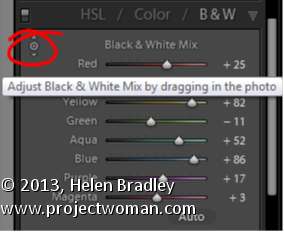 How to use the Targeted Adjustment Tool to get a better Black and White Image
In the Black & White mix dialog is a Targeted Adjustment Tool (TAT).
You can use this TAT to craft your own black and white image.
To do this, select the TAT and drag up or down on an area of the image to lighten or darken the color under the TAT. This is often easier than dragging on the color sliders to adjust your black and white image.
The TAT is handy for crafting a black and white image to look the way you want it to look.